Player Spotlight
Name:
T.J. Yates
School:
University of North Carolina
Position:
Quarterback
Height: 6'4
Weight: 220 lbs
40 yard dash: 5.0 seconds
NFLDraftInsider Analysis:
After hanging up the phone with T.J., The first thing that came to my mind was how intelligent and well spoken he was. T.J. doesn't only have a sound mind, but also an accurate arm and deceptive elusiveness to match it. A self proclaimed cerebral quarterback, T.J. rarely makes an ill advised throw, and will have no trouble making an NFL roster. I was lucky enough to have T.J. take time out of his busy pre-draft schedule to talk the NFL Draft and more.
Interview:
NFL DraftInsider: How did you overcome all the adversity with your teammate's suspensions?
TJ Yates: It was a situation that none of the players or coaches had been through before. We had to feel it out ourselves each week, because we had no idea who was going to play. Every person on the team had to be ready to step up and play. For example,on the final drive versus Florida State we had our 5th string, walk on running back in. The entire depth chart had to be ready to contribute when called on. That's how we dealt with the adversity of the suspensions.
NDI: Who was the toughest defense you ever faced?
TJ: Year in and year out Virginia Tech presented the toughest challenge. Their defense is very unorthodox. They do this thing where they rotate the safeties. It's a cover 2 coverage with 9 men still in the box. It's very difficult to pass on and it's tough to run on as well.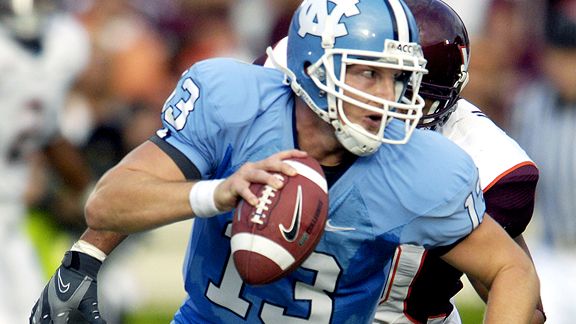 T.J. avoids the Virginia Tech Defense
NDI: What NFL teams have you been in contact with? Which ones seem the most interested?
TJ: I have had workouts with the Chiefs, Bears, Eagles, and I am working out with the Falcons next Wednesday. I also had a lot of great interviews while at the combine. It's really difficult to tell when and where you are going to be drafted. Every team has different needs, and if you're not ranked in the top 5 of quarterbacks you can really go anywhere.
T.J. answers questions at the NFL Combine
NDI: What would you say is your greatest strength as a quarterback?
TJ: Probably how smart of a quarterback I am. We ran a very complex offense at Carolina. It took a real cerebral quarterback to run it efficiently. There were a lot of young guys on offense, so I had to always make sure they were lined up in the right position. This will translate well to the NFL. It's important that you pick up the play book quickly.
NDI: What is the one area in which you can improve the most?
TJ:
In
our offense, I wasn't called on to make those long, NFL type throws. I am very capable of making those throws, I am just not use to doing so. It's something I have been working hard on.
NDI: What will you buy with your first NFL paycheck?
TJ: I am not going to buy a new car. I am going to fix my door handle on my 1998 Toyota Avalon (laughs). It's broken and won't open. I have to enter from the back seat, so that's probably the first thing I am going to do with the money.
NDI: What NFL quarterback do you enjoy watching the most?
TJ: Drew Brees, I am a big fan of his. We ran a very similar offense as the Saints at UNC, so I was constantly watching film of him. We based a lot of things we did off of him and the Saint's Offense.
NDI: What NFL quarterback do you think you resemble the most?
TJ: My offense coordinator always compared me to Brad Johnson, because he use to coach him in Tampa Bay. You know not the biggest arm, but great touch, and can move pretty well in the pocket
NDI: Where will you be watching the NFL Draft?
TJ: At home in Atlanta with my family. I'm just hoping to get a phone call.